TEAM
"The soul of a company comes from
the people who imagined it."
Léonard Cohen Founding Partner, Chairman & CEO, CIO

"The soul of a company comes
from the people who imagined it."
Founding Partner, Chairman & CEO, CIO
Ginjer AM was founded in 2011 in the midst of the financial crisis to address the new issues facing the investment management industry. The innovation embraced by Ginjer AM to better grasp new market risks has earned the attention of seasoned professionals from widely different backgrounds in the financial industry.
The team has developed a hybrid portfolio management culture combining fundamental, quantitative, structured and alternative strategies. Ginjer AM has been backed by BNP Paribas.








An actuary by training, I began my career at BNP Gestions in January 1995, the year I put my asset/liability management skills to the test. At the same time, I designed the portfolio management decision-making tools that would be distributed to all BNP Paribas AM teams in the years to come.
In August 1995, I was assigned my first Equities portfolios covering France and Europe. In 1998, Gilles de Vaugrigneuse entrusted me with the management of BNP's PEA (personal equity plan) mutual fund.
In January 2000, I joined Edmond de Rothschild AM to develop value investing strategies for Europe.
I was appointed as Head of Equity Strategies for France and Europe at Edmond de Rothschild AM in 2004, a role that was expanded to include convertible bonds in 2007.
During this period, I met Baptiste Money and Bruno Zaraya, working successively with them on the Bank's institutional clients and distribution. The work we did together made me want to found a new joint project.
In September 2009, we entered into preliminary talks with partners, BNP Paribas and La Française (formerly UFG – LFP Group), to implement a unique, diversified flexible strategy and establish an asset management company.
These plans came to fruition on July 1, 2011, the date on which Ginjer was established. I am the Chairman and CEO, as well as the CIO of Ginjer AM.
Founding Partner, Chairman & CEO, CIO
Léonard Cohen

After holding various positions within BNP Group, I was appointed as Chairman and CEO of BNP Paribas AM in 1999. Léonard Cohen was a member of my portfolio management team from 1995 to 1999.
In 2006, while I was Chairman of BNPP AM, I started a business incubating alternative emerging managers in France, which was broadened to include traditional strategies under a partnership with a US incubator.
This experience would naturally lead to the July 2011 launch of Ginjer AM with the founding team.
Founding Partner, Vice-Chairman
Gilles de Vaugrigneuse

After graduating from Euromed Marseille, I earned my first experience at La France Assurances, where I developed the wealth management division before quickly developing a taste for the asset management industry. I joined the Partnerships team at Edmond de Rothschild AM in 2004, then became the Executive Manager for France in 2007, accepting my very first managerial duties. Over the course of this period, I met Léonard Cohen and Baptiste Money. I soon shared the dream of one day creating our own asset management company.
In 2009, I worked alongside the new Chairman of Sal Oppenheim France as Head of Sales, a position I maintained at Métropole Gestion while still at his side.
In 2011, when Léonard asked me to found Ginjer AM with Baptiste Money and Gilles de Vaugrigneuse, the choice of joining them was a no-brainer.
Head of Business Development
Bruno Zaraya

With my Engineering Degree in hand, I chose to put my skills to use in the early days of quant strategies. I joined Sinopia (member of HSBC Group) in 2000 as a member of the International Bond team.
I helped launch the GBMN (Global Bond Market Neutral) strategy in 2001 and was appointed Lead Manager of this same strategy in 2002 on the Fixed Income & Absolute Return team.
At the same time, I became one of the Senior Portfolio Managers in charge of Absolute Return strategies on the international bond markets.
In 2010, I was put in charge of HSBC Global AM's Quant dealing desk.
I met Léonard Cohen and the other founding partners early 2011 before deciding to take part in the development of Ginjer AM and to join the team in September 2011.
Partner, Senior Portfolio Manager
Charles Fischer

I started my career in the central services and retail banking departments of BNP, covering a variety of fields such as accounting for foreign-currency accounts, analysis and management of fraud-related risks and monitoring client commitments.
In 1988, Gilles de Vaugrigneuse hired me to work at BNP Gestions, where I held several different positions.
I had the opportunity to meet Léonard Cohen on the Equity Strategies and Quantitative Research team. Together, we modeled our first decision-making tools.
In 1997, I got a chance to work on the first guaranteed and index funds, before taking charge of the new Equity Middle Office using the decision-making tools created with Léonard Cohen, which were then distributed to all BNP Paribas AM teams.
In 2001, I participated in the foundations of open architecture in a new department, now part of FundQuest.
Beginning in 2006, I was given responsibility for projects on the newly created platform used to calculate rebates at BP2S.
In 2009, I gravitated towards a position with organizational duties and designed the Transfer Agent control plan. I was successively recognized at the Innovation Awards 2010 at BP2S, then as part of the Investment Solutions Division at BNP Paribas.
In late 2010, I took the helm of cross-business projects for "Employee Savings Services" (an employee savings platform shared by Société Générale, BNP Paribas ERE, HSBC EE and AXA ERE).
On September 1, I joined Ginjer AM alongside Gilles de Vaugrigneuse and Léonard Cohen, where I was asked to head the Middle Office and Operations. I was appointed Chief Risk and Compliance Officer in October 2015.
Partner, Chief Risk and Compliance Officer
Englibert Le Quang Chieu

Having earned a master's degree in Financial Economics from EDHEC Business School, I started my career in March 2000 in Germany as an analyst with Société Générale's M&A Department.
In October 2001, Prof. Noël Amenc asked me to join him alongside Prof. Lionel Martellini to help create and develop the EDHEC Risk Institute, where I became in charge of the "Index and Benchmarking" and "Asset Allocation and Alternative Diversification" research programs. I capitalized on this very enriching experience to publish a series of articles in academic and practitioner journals, and earn a PhD in Finance from the Université of Paris Dauphine.
My taste for research never faded and ended up informing my perspective as a portfolio manager when I joined Lyxor in 2006 to manage alternative portfolios. As a member of the Investment Committee, I was given responsibility for the design and the management of tailor-made solutions for international institutional investors.
I met Baptiste Money while working at Lyxor towards the end of 2010. I maintained regular contacts with the founding team of Ginjer starting in 2012 and finally decided to make the switch and join them the following year.
Partner, Head of Research
Mathieu Vaissié

After graduating with a master degree in Information Systems Management from the Polytechnique EPF Engineering School, I turned to the financial industry and started off my career designing decision-making tools for equity strategies at BNP. That was when I first met Léonard Cohen and Englibert Le Quang Chieu.
Wanting to hone my experience, I worked in several departments at various French banks, where I facilitated the development and integration of recovery tools and applications used for financial analysis, research and portfolio management.
I then veered towards managing teams focused on organization or oversight of structure-building projects for asset management entities, or investment banks under Crédit Lyonnais or Natixis.
It was a natural step to accept the invitation to join Ginjer AM in January 2014, to help optimize and automatize the different decision-making chains and to ensure that the support functions ran as smoothly as possible. I was appointed Chief Operating Officer in October 2015.
Partner, Chief Operating Officer
Christelle Milin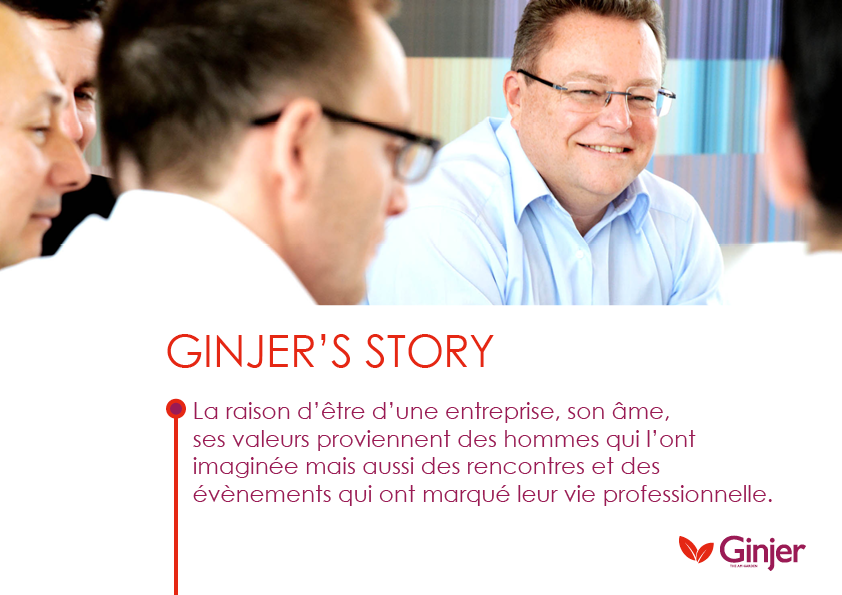 You can also read our disclaimer. The content used on this website may not be reproduced, distributed, transmitted, hidden or used without the authorization of GinjerAM.